Auvisoft CD Ripper 1.5

Extact audio data from Audio CD, encode to MP3/OGG/WAV/WMA
Auvisoft CD Ripper extracts audio data from Audio CD and encode to APE, FLAC, MP3, OGG, WAV and WMA formats.
Options include bit rates from 8Kbps to 320Kbps, variable bit rate (VBR), channel mode, low-pass filter, etc.
Auvisoft CD Ripper supports Freedb and ID3 tagging so you can automatically receive CD track information through the Internet.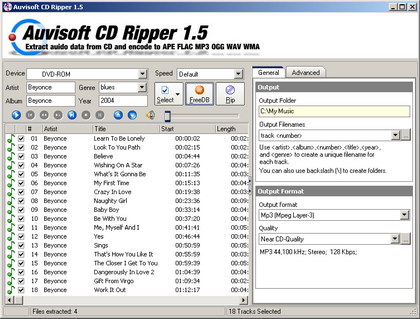 Software Features:
Rip audio CD to APE, FLAC, MP3, OGG, WAV and WMA formats
Support bit rates from 8Kbps to 320Kbps
Support Freedb and ID3 tagging
Latest updates:
New easy-to-use interface
FreeDB bug fixed
Added support for decoding WMA (Windows Media Audio)
Small bugs fixed